RestoringTouch is dedicated to improving the lives of individuals with practical acts of compassion wherever the need may be. Click below to read about a few of the people we have helped along the way.
---
China and India

​​​
​We experienced an incredible journey to China and India distributing personal solar lights (LuminAID) and water filters (LifeStraw). Read more...

Hopi

​We did a quick visit to Hopi to reconnect with friends and plan the upcoming October trip the week of Monday, October 29 - Friday, November 2. We also distributed food certificates from the Kykotsmovi Store and gave financial assistance to the elderly.

​Go to Adopt an Elder to read more about this important part of RestoringTouch.
---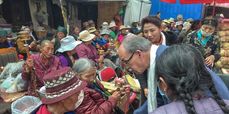 Meru Temple in Lhasa holds a 40-day prayer and meditation each year with over 2,000 Buddhist devotees.
The temple allowed us to help many elderly and poor with a special gift. The following year we assisted in paying for over 2,000 lunches for 40 days.
​
---
---

​I'm only one; but still I am one. I cannot do everything, but I can do something. I will not refuse to do that which I can do. ― Edward Everett Hale