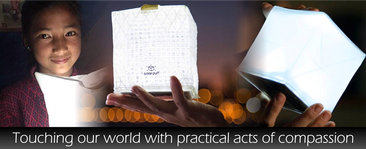 Our trip to the Hopi villages with personal solar lights was a great success
!
We were amazed at the numbers of people living without electricity in large areas of the Hopi Reservation. Many homes still use toxic kerosene lanterns as well as propane lamps. Lightweight and lasting up to 12 hours on a single charge, these solar lights are a safe way to bring light to the Hopi and other Native Americans living in remote areas of the southwest.
We distributed over 300 personal solar lights (
Solight-Design.com
) donated by the accounting firm Dixon Hughes Goodman (
dhgllp.com
). The villages we focused on were the traditional villages of Lower Moenkopi, Hotevilla and Old Oraibi (Third Mesa); Mishongnovi (Second Mesa village); Walpi (First Mesa village).
​Lights were distributed to many homes and Kivas, the religious and social centers for the Hopi. I wish I could express the joy we saw in their faces as the lights lit up their rooms.
This is the first of many solar light journeys. I want to thank our team and everyone who gave to help make this possible. You blessed a lot of special people!
Jack Lankhorst
RestoringTouch Inc.
Hopi.org